Here's how you can ensure a smooth Junkanoo experience with ALIV!
With Junkanoo back on Bay Street after two (very!) long years, we want to ensure these long awaited parades are as seamless as they will be exciting. As a committed digital lifestyle partner, we introduced the ALIV Events App to streamline ticket purchases and manage your entire Junkanoo experience on the go. We've put together a handy day of guide to make sure you have the support you need to get you seated and ready for bay!
Here's what you need to know about tickets on the evening of Junkanoo:
Bring your mobile device with your e-ticket already loaded on your Aliv Events Digital Wallet or download from your email address (if you purchased your ticket in store).
Ensure all attendees are present at the gate if you are the ticket holder or provide each person with their own ticket.
We will scan your ticket QR codes at your entry gate. Be sure you have the right ticket – for your security, tickets can only be scanned once!
Only e-Tickets will be accepted at the entry gates.
Do not share your ticket with strangers. Only share tickets directly with the person named on the e-ticket.
Here's how to read your Junkanoo e-ticket:
Tip: If you have tickets for both Boxing Day and New Year's parades, be sure to check your ticket to make sure you have the right ticket for the right parade! 
Looking for your gate? Here's your Junkanoo seating chart: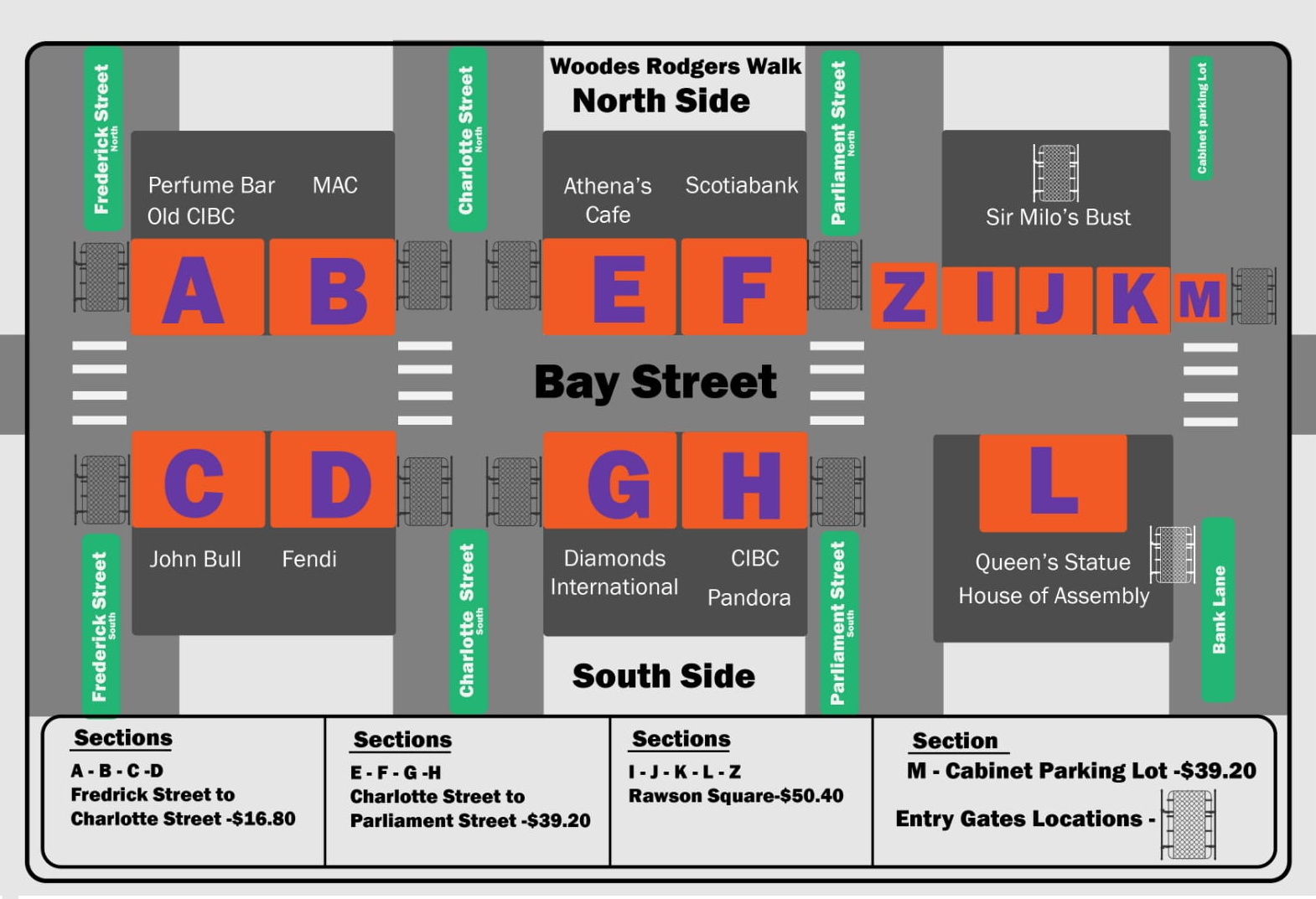 A – Fredrick St. North
B– Charlotte St. North
C – Fredrick St South
D – Charlotte St South
E – Charlotte St North
F – Parliament St North
G – Charlotte at South
H – Parliament St South
I, J & K – Bank Lane North (Access from Bank Lane South)
L – Bank Lane South
M – Bank Lane South
Don't forget!
If you need help with the ALIV Events app or anything related to your events digital tickets, send us an email at events.support@bealiv.com. Share all your Junkanoo photos and videos from Bay street with us on social media using #JuknaooIsALIV. See you on Bay!
Related posts