1. How do I find my seating section?
A: You can find your seating in this chart below. Please check your ticket for the right section and locate the section letter at each gate.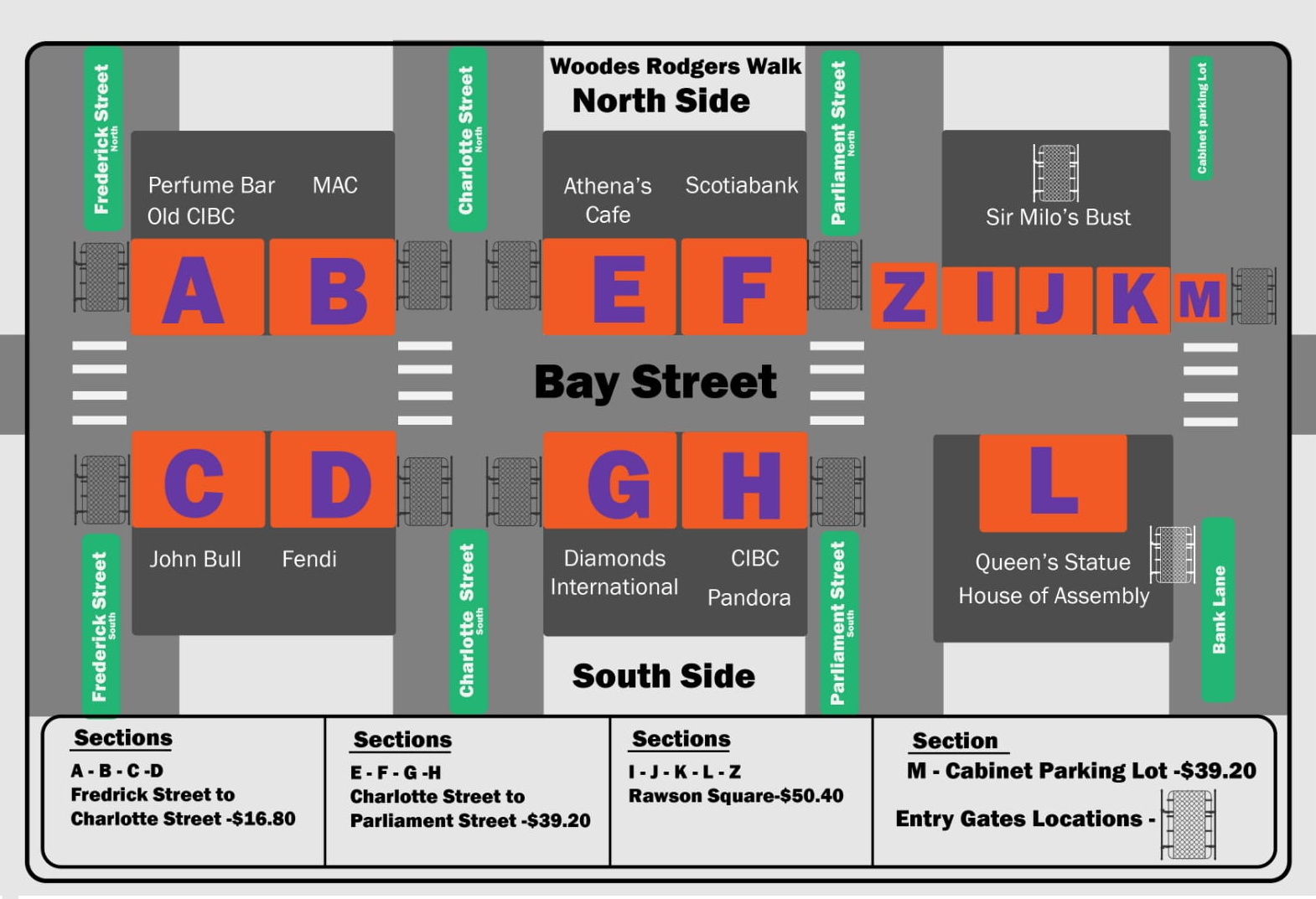 1b: How do I read my Junkanoo Ticket to make sure I have the right seating?
A: This video should help you read your ALIV Events Junkanoo Ticket.
2. Where are the restrooms located?
A: The restrooms are in the following locations:
i. Bank Lane; and
ii. Parliament Street
3. I can't access my tickets on the ALIV Events app. What should I do?
A: Kindly check your email for your tickets if you cannot access the ALIV Events app. Please check your junk or spam mail. If you have not received your ticket, please email us at events.support@beALIV.com.
4. Someone is in my seat; what should I do?
A: Present the Gate Marshall with the original email for your ticket or the purchaser email from the original purchase if you purchase a third-party ticket. Once you provide your validated email, the Gate Marshall will seat you.
5. Where can I get Top Up?
A: ALIV vans are located through George Street, and Cabinet Office's parking lot. The team is more than happy to assist.
6. How do I view my tickets once I've purchased?
A: Open the ALIV Events app and go to the "View Tickets" tab to view your tickets. Check your email Inbox or Junk Mail for your tickets from the ALIV Events email.
7. Will the Junkanoo parade be live-streamed?
A: Yes,Yes, the parade will be live, via:
• Our News YouTube channel
• ALIV's Facebook page
• REV's Facebook page
8. When does the parade start?
A: Gates Open: Monday, January 2nd, 10pm and the Parade Starts: 12:01am.
We recommend coming to Bay street early to avoid seating delays! Our Junkanoo ticket guide should help you get the best out of the Junkanoo experience. For more information on the ALIV Events app and Junkanoo, visit here.
Related posts